By KellyWil
Posted From http://feedproxy.google.com/~r/freepeoplefeed/~3/aOuxowHHT-w/
It can fake a great night's sleep, make it look like you actually have cheekbones, even give you the appearance of a fresh-faced wood nymph…
Any product that promises to make you glow should be approached with caution. What kind of "glow" are we talking about here? A neon self-tanner-gone-wrong glow? An Alex Mack-level chemical accident glow? An ET-fingertip-phone-home glow?
Yes, "dewy" skin is uber-coveted these days, and for good reason. But skin that glows can be scary, especially when that glow relies on products you're applying to your own face with an untrained hand…like highlighter. What if you use too much? Or too little? Or you put it in a weird spot?
Highlighter—we're talking makeup here, not the colorful markers you used to organize your notes in class—can work wonders if used correctly. It can fake a great night's sleep, make it look like you actually have cheekbones, even give you the appearance of a fresh-faced wood nymph. But you have to know where and how to apply it. Nothing bad will happen if it's in an unconventional spot, but do you really want the middle of your forehead to glow?
Luckily, we're here to help. Below are a few places you'll want to use highlighter and why, as well as a rundown of the different types of highlighters you can find. And remember — stay away from the forehead.
What type of highlighter should I use?
Highlighters typically come in one of several formats: pot, stick, liquid and powder.
If you're just starting out on the highlighter journey, opt for a pot. You pick the product up with the pad of your finger, meaning you have more control over how much you get, how much you deposit and where it goes. The warmth of your fingertips will also help melt the product a bit which means it'll be easier to apply and blend in.
An instant classic is RMS Beauty's Living Luminzer. The color is perfect for every skin tone and it's not too glittery, meaning it's not obvious. With a coconut oil base, it's also skin-friendly and super-easy to apply, blend and layer if you want more oomph. This stuff also lasts forever…seriously, even if you use this every single day, you won't need to repurchase for at least a year. It's like the never-ending pot of luminized goodness.
Next up are sticks. Like highlighters that come in pots, stick formulas are creamy and blendable, and the shape makes them easy to grip like a writing implement, as if you're drawing the highlighter on your face. Fingers can get into the small spots on your face, but a stick makes covering a long swath of skin much easier and more seamless.
The Moonlight Illuminator from Vapour Organic Beauty is another universally-flattering shade, with rosy undertones that pull double duty making you look glowy and sunkissed. This stick is easy to apply, infinitely buildable and will make you look like you're constantly awash in incredibly flattering candlelight.
Though the control factor is a bit lower, liquid highlighters work for small and large areas, like your decolletage or even your legs. (There's no reason your face should have all the highlighter fun!) Just add a few drops to your favorite moisturizer, apply and prepare to glow.
For a sheer, natural-looking luminosity, opt for Gressa Skin's Minimalist Illuminating Serum. This stuff functions as makeup, but it's also a serum which means it delivers a serious dose of skin-friendly ingredients like broccoli seed oil, horsetail extract and sea buckthorn every time it's applied.
Finally, there's powder highlighter. The staying power with powder isn't as great as the other formulas as it sits on top of the skin, it's a bit more subtle and takes a steadier hand to apply, but with the right brush, the effect is lovely.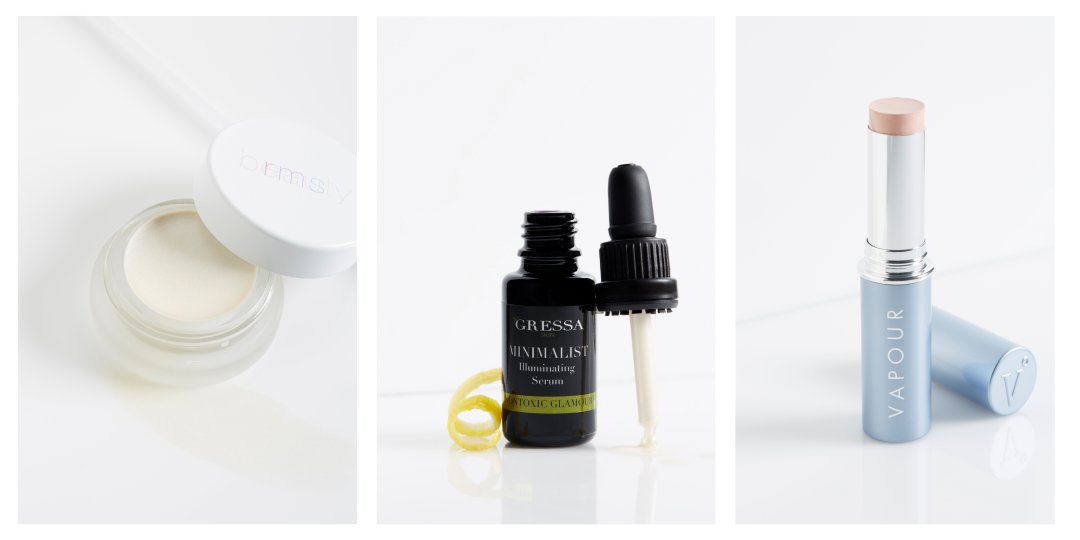 How do I use highlighter?
The whole point of a highlighter is to lighten and brighten whatever area you're applying it to. The slight shimmer in the formula also means the product will catch and reflect light, making certain areas of your face appear higher and more hydrated.
To make your eyes look bigger…apply highlighter just beneath your eyebrow, directly on the brow bone. This will highlight the arch in your brow, making your eyes appear wider and more alert. You can also add some to the center of your eyelid for a similar effect.
To appear more awake…when you're running on three hours of sleep but need to fake a great night's sleep, dab a bit of highlighter in the inner corner of your eyes. Stand back and marvel at what a little makeup can do to your exhausted visage.
To fake cheekbones….actually apply highlighter just above your cheekbone. Start from just under the center of your eye socket and work up and out in a diagonal line toward your temple.
To glow all over…gently tapping highlighter on the apples of your cheeks over blush will give you a cheery, rosy glow. (To find the apple of your cheeks, smile into a mirror. The part of your cheek that stands out is where you want to aim that highlighter.)
To prioritize your lips…a touch of highlighter on your cupid's bow (that little indents just beneath your nose and just above the center of your lips) will draw major attention to your pout.
To slim your face…not that you need it! But if you want to play around with contouring, apply a few dots or a thin line of highlighter to the bridge of your nose for a minor slimming effect.
And always remember to blend, blend, blend! Whether you do it with a sponge, a brush or your fingers, this step is key. Nothing is worse than a noticeable streak when you're trying to get your glow on.
+ What are you thoughts on highlighting? Let us know your tricks in the comments below! 
Read more from Allie here!
[wps_deals_by_id id="683″ ][/wps_deals_by_id]
Save
Save
Save